Quiz and Curry Evening
March 2nd 2019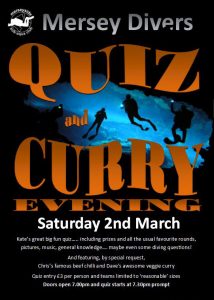 Mersey Divers very early easter quiz and curry evening will be on Saturday 2nd March at the clubhouse. Kate Mills will be running the big fun quiz with the usual favorite rounds, picture, music, general knowledge and perhaps even diving !
Chris Mills and Dave Barlow will be providing the catering, but don't let that put you off….. So far, there will be beef chilli and veggie curry on the menu but there may be more additions to come.
Entry into the quiz is £3 per person and there will be a limit on team sizes.
Doors open at 7.00pm and the quiz will start at 7:30 pm.